As a young parent, you are juggling your professional responsibilities and your baby's nurturing needs. Just the thought of leaving your baby with unfamiliar people for daytime care is frightening you. Also, you know that your baby is missing out on socialization when it is at home all the time.
For all these challenges, you want a reliable helper and a safe environment. And this is why we exist.
We welcome babies from 1 month of age at our Crossroads location. Change of caregiving environment can be so stressful for you and your baby. Our team will help you feel the transition as a positive experience. Our safe, secure, sensory-rich environment is perfect for your baby's first steps in the child care facility and the beginning of its learning journey.
In our infant classroom programs, we are incorporating the most current health, safety, and caregiving practices:
Trust: Infants quickly gain a sense of trust that gives them a feeling of safety and security they need to grow and learn. We believe that the foundations of a positive early learning journey begin from the youngest years. We know that you are the most important person in your child's world and their first teacher. That's why the trusting relationship between parents and our teachers is key and, in turn, supports your child's healthy growth and development.
Our staff respects and embraces the unique qualities of each individual child and their household and realizes this is a journey we will take together.
Consistency in Caregivers: An infant's basic trust sense comes from a warm and loving relationship with caregivers. When caregivers are responsive, predictable, and nurturing, infants gain the self-esteem and courage needed for further development. Our caregivers are careful with respect to continuity of care and the bond between infants and their parents.
Our small team of infant teachers provides nurturing, dependable infant care with minimum daily staff transitions.
Communication is crucial for successful infants' early development. Our teachers are intentional and responsive in their interactions with children as well as parents. They communicate honestly and often to families about the development and needs of each child. Parents are encouraged to share information while, in return, teachers are equally receptive to families as they hear and understand goals and concerns for their children. Teachers document activities and provide daily feedback on the children's health, well-being, and emerging skills.
Safety is one of the essential concerns in a group care setting. Here, at Billie's Busy Kids, classrooms are secure, clean, and equipped with age-appropriate child-sized furnishings. This is a licensed facility and complies with all current health and safety regulations.
Child Care Health Consultants are here to support childcare providers in promoting the health and development of infants. With monthly visits and phone call consultations, they actively help to create and maintain a healthy and safe environment. These consultants are here to help parents by:
Sharing health and developmental expertise;
Conducting assessments of your child, staff, and family health needs;
Making referrals to community resources as necessary or requested by the Early Childhood Educators or by you, the parent.
Room Environment at Billie's Busy Kids is quiet and comfortable. Our infant teaching team allows both infants and caregivers to function in a safe, no- stress environment which is crucial for early development.
Our classrooms are clean, free of clutter, and give considerable attention to young children's need to move, crawl and explore in a safe environment. All classroom areas have child-friendly shelves, non-slip floors, and rounded corners. We provide an open space where infants can easily navigate between areas exploring their ever-growing independence.
Tummy time is important for infants' growth and development. It offers a variety of benefits, including:
promoting physical development. It will strengthen your baby's arms, legs, neck, and back and increase muscle control and flexibility. Those skills are crucial for their near future transition to rolling over, sitting up, crawling, and eventually walking,
Easing torticollis and avoiding flat head syndrome,
Opening a whole new perspective on the surrounding world.
A balanced schedule and activities responsive to a child's individual needs are the only way for teachers to achieve a high level of physical development, language development, social-emotional development, and cognitive skills for each child. With a variety of simple interesting materials and toys, infants are learning to understand physical objects, enjoy sensory explorations such as sight, sound, and touch, as well as increase their vocabulary. The staff plan is based on age and stage of development.
Arrival and Departure are one of the most critical activities. Both infants and parents can experience separation anxiety, so an attractive and cheerful entrance can dispel their fears, inviting them to enter a special place designed just for them. A well-defined entrance gives children a clear sense of space, predictability, and security. We feel that when parents feel welcome in the classroom, they'll have more confidence to visit, communicate, and make the transition that works for them.
Feeding Infants is such a delicate and essential process for their growth. Babies may get hungry at times outside of typical mealtimes. Also, they may need to eat more or less often or smaller or larger amounts than others. 
For this reason, at BBK, we recommend that babies be fed on demand, rather than on schedule. This means feeding them when they show signs of being hungry, even if that is not during the regular meal.
Here at BBK, mothers are welcome to breastfeed or they can provide breastmilk in bottles for their baby. Parents may wish to provide breastmilk and supplement with either our enriched infant formula, or some other formula you prefer. Also, parents may want to use ONLY an infant formula. We can provide your baby with iron-enriched infant formula at no cost. All of these topics will be carefully discussed at enrollment.
Solid food feeding helps your baby get the nutrition needed for good health. The right food quality and amount, at the right time, are what your infant needs.
It will enjoy many types and textures (smooth, lumpy, and so on) of food during its first year. At BBK, we provide and serve solid food in partnership with infants' parents. You and your child's caregiver will review the plan to start serving solid foods.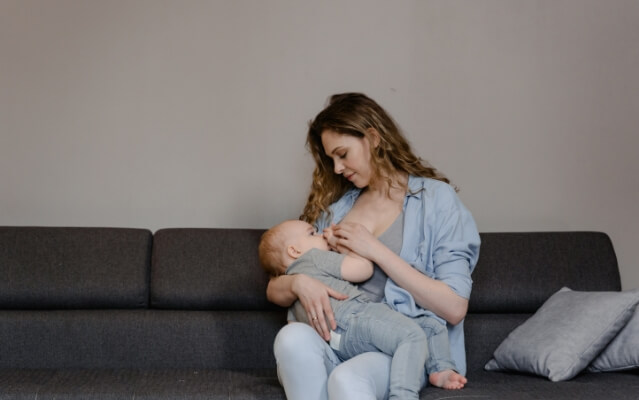 The warm and loving atmosphere for your little ones at BBK will be perfect for supporting their development. The secure surroundings and equipment will meet their playtime needs. In combination with adequate sleep, emotional and physical nourishment, and sensory stimulation, your baby will grow and develop as you wish. With our help you can regain control of your professional and social life with no negative impact on your baby's development. The time with your precious baby will be a time of joy with no pressure of unfinished professional obligations.
Contact us for more details about our infant caregiving program.